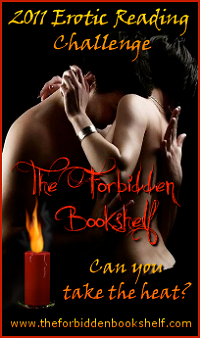 No time like the present to get started:
1. Sweet Disgrace by Cherrie Lynn
2. Club Mephisto by Annabel Joseph
3. Rough Cut by Mari Carr
4. Kate's Crew by Jayne Rylon
5. Out Of My Mind by M.L. Rhodes
6. Seeking Kokopelli by Shelley Munro
7. Wanting by M.L. Rhodes
8. The Lover Hunt, Just a Taste, and Another Door by Jess Michaels
9. Midnight Moon by Madison Layle and Anna Leigh Keaton
10. Truly Scrumptious by R.G. Alexander
11. To The Max by Annmarie McKenna
12. Borrowed Stilettos by Rebecca J. Clark
13. Sexpresso Nights by Kelly Jamieson
14. Breaking Leather by Delilah Devlin
15. Everything Forbidden by Jess Michaels
16. Sin by Jess Michaels
17. Picture Perfect by Evangeline Anderson
18. Bent by Sean Michael
19. True Heart by Delilah Devlin
20. The Beauty of Surrender by Eden Bradley
21. By the Book by Scarlett Parrish
22. His Client by Ava March
23. Never the Face by Ariel Sands
24. Rednecks and Roses by Judy Mays
25. Rednecks and Rock Candy by Judy Mays
26. Seven Nights by Jess Michaels
27. Cherry Pie by Samantha Kane
28.Well Hung by M.L. Rhodes
29. With Abandon by J.L. Langley
30. Consensual Infidelity by Shayla Kersten
31. Grace Under Fire by Jackie Barbosa
32. A Fine Specimen by Lisa Marie Rice
33. Seven Nights by Jess Michaels
34. For Her Pleasure by Maya Banks
35.
36.
37.
38.
39.
40.